Nestled along Florida's captivating Gulf Coast, Palm Harbor is where natural beauty meets vibrant community life. In the heart of Pinellas County, an array of adventures awaits. The charming downtown beckons with quaint cafes and lively cultural venues, while the tranquil parks and serene beaches offer a peaceful retreat. Every corner of Palm Harbor tells a tale, from the whispers of history amidst ancient oaks to the laughter ringing across vibrant festivals. Here, every day unfolds a new chapter in a rich, ongoing story, inviting you to discover the myriad delightful activities that dot this scenic landscape.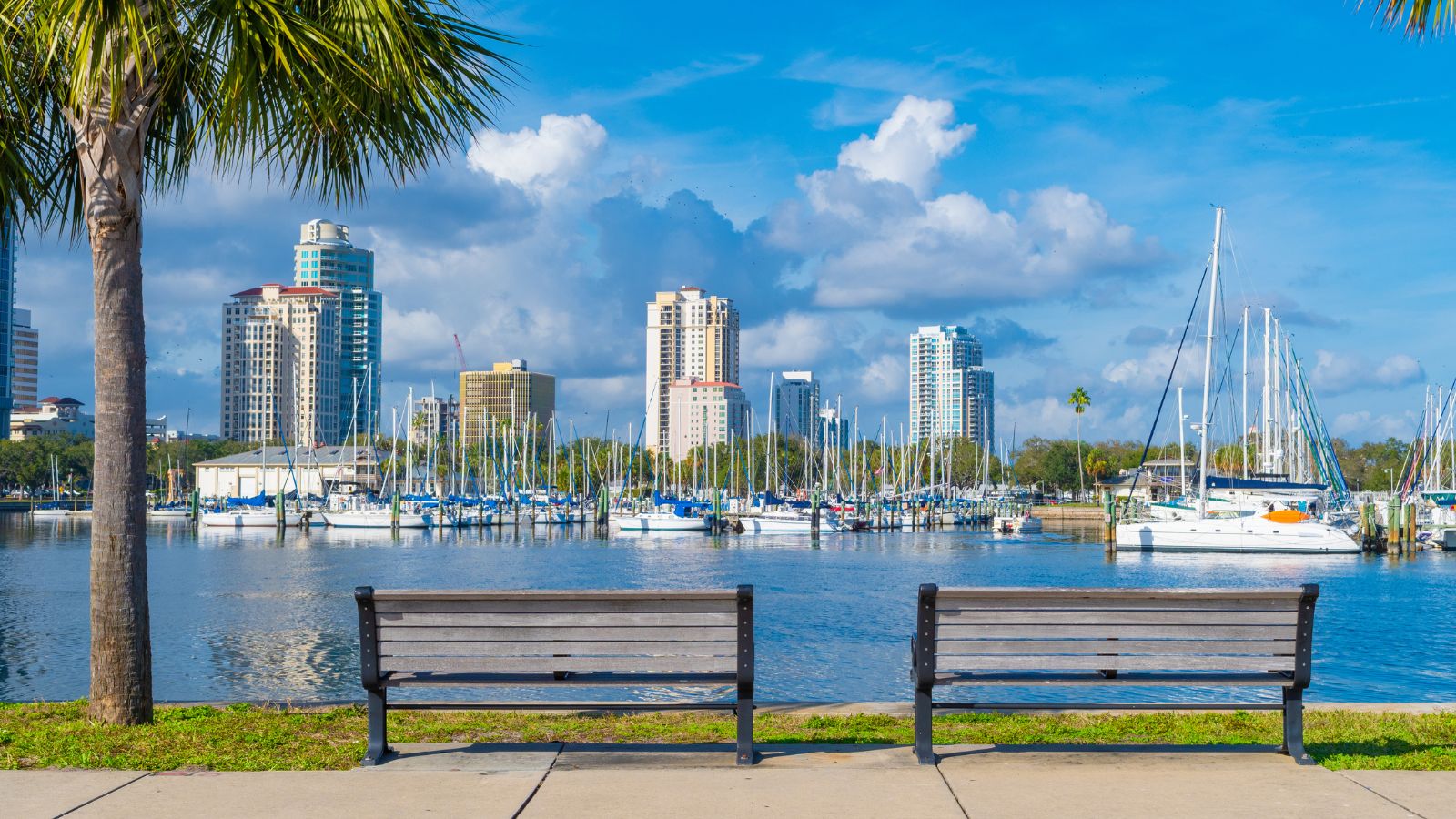 John Chesnut Sr. Park
Uncover nature's tapestry at the John Chesnut Sr. Park, a serene escape stretching over 255 acres, offering a fresh breath of tranquility amidst Palm Harbor's lively rhythm. As you meander along the well-marked trails, the whispers of ancient trees share tales of days gone by. The park is an adventure for wildlife enthusiasts, with its observation towers providing a vantage point to watch the playful antics of squirrels, the graceful flight of eagles, and the gentle ripples caused by turtles sliding into the calm waters. Picnic areas dotted across the park invite families to share laughter and meals under the warm Florida sun. A playground awaits the young and young-at-heart, while the boat ramp calls to those eager to explore Lake Tarpon's calm waters. Every visit to John Chesnut Sr. Park is a page turned in your Palm Harbor adventure. Learn more at pinellascounty.org.
Innisbrook, A Salamander Golf & Spa Resort
For the golf enthusiast, the lush greens of Innisbrook, A Salamander Golf & Spa Resort, are akin to paradise. This world-renowned resort boasts four championship courses, each offering a unique blend of challenging play and breathtaking scenery. The Copperhead Course, famous for hosting the PGA Tour's Valspar Championship, invites golfers to test their mettle amidst rolling terrain and stunning landscapes. Beyond the greens, Innisbrook offers a spa haven for relaxation and a host of dining venues to satiate the gourmet in you. Whether you're perfecting your swing under the soft glow of the morning sun or toasting to a game well-played as the day winds down, Innisbrook encapsulates the epitome of golfing excellence in Palm Harbor. Discover more at innisbrookgolfresort.com.
Honeymoon Island State Park
Step onto the soft sands of Honeymoon Island State Park and let the gentle Gulf breezes whisk your worries away. This pristine island offers a sanctuary where the turquoise waters kiss the shores with soft whispers. Nature trails invite exploration, leading you through unspoiled maritime forests where ospreys soar overhead. The sunsets here are a palette of colors painting the sky, a perfect backdrop as you stroll along the shoreline or relax with a picnic. The pet beach ensures your furry companion can romp in the waves alongside you, making Honeymoon Island a haven for every member of the family. Embrace the island's serenity at floridastateparks.org.
Wall Springs Park
Venture to Wall Springs Park, a historical natural spring that has quenched the thirst of Native Americans, pioneers, and wildlife through the ages. Today, the park invites visitors to explore its natural beauty along boardwalks and trails that wind through lush landscapes. Observation decks provide a perch to witness the spring's crystal-clear waters and the myriad of life it sustains. The towering observation tower offers a bird's-eye view of Palm Harbor's picturesque scenery, making Wall Springs Park a place where nature and history dance a slow, timeless waltz. Delve into nature's embrace at pinellascounty.org/park/
Retail Therapy in Palm Harbor
Indulging in a little retail therapy is a joy in the welcoming embrace of Palm Harbor. The town offers a range of shopping experiences, from quaint boutiques nestled in its charming downtown to modern shopping centers offering a myriad of retail stores. As you stroll through the vibrant shopping districts, you'll find a blend of well-known brands and unique, locally owned shops ready to enthrall with their offerings. Whether you're on the hunt for the latest fashion trends, unique artisan crafts, or simply enjoying the lively atmosphere, Palm Harbor's retail landscape is an adventure in discovery.
Downtown Palm Harbor
Step into the heart of Palm Harbor, where the quaint charm of downtown offers a delightful shopping spree waiting to unfold. The unique boutiques and family-owned shops are brimming with treasures, from chic apparel to handcrafted jewelry and home decor. As you stroll along the tree-lined streets, the warm Florida sun casts a golden glow, enhancing the welcoming ambiance. Each storefront holds the promise of discovery, with friendly shop owners ready to share their passion and crafts with you. Downtown Palm Harbor is where the community's heart beats, a place where shopping is akin to a friendly chat with neighbors. Discover more at palmharborcc.org.
Crystal Beach Plaza
Crystal Beach Plaza is your go-to destination for a modern shopping experience in Palm Harbor. Home to a variety of retail stores, it offers a convenient spot to check off your shopping list. Whether you're in search of fashionable attire, electronics, or everyday essentials, Crystal Beach Plaza houses a mix of brands to cater to your needs. The plaza is more than just a shopping venue; it's a community hub where locals converge, adding a vibrant pulse to the retail scene. Find out more at crystalbeach-plaza.com.
Westlake Village Shopping Center
Westlake Village Shopping Center is a hub where retail meets leisure. With an array of shops offering a range of products, from trendy clothing to fresh, local produce, Westlake Village is a one-stop shop for all your retail needs. The landscaped surroundings provide a peaceful backdrop to your shopping adventure, while the variety of eateries offer a respite to refuel and relish delicious bites. The welcoming atmosphere and diverse retail offerings make Westlake Village Shopping Center a favored destination for locals and visitors alike. Dive into the retail richness at westlakevillageshoppingcenter.com.
The Shoppes at Boot Ranch
The Shoppes at Boot Ranch, offering a harmonious blend of retail, dining, and entertainment, is a lively venue ready to satiate your shopping desires. With a selection of well-known retail outlets alongside unique boutique stores, there's a treasure trove of shopping opportunities awaiting. The open-air setting enhances the leisurely shopping experience, inviting you to take a pleasant stroll as you explore the diverse retail offerings. From grabbing a coffee at a cozy cafe to hunting for the perfect gift, The Shoppes at Boot Ranch provides a pleasant, vibrant atmosphere for a satisfying retail expedition. Uncover more at shoppesatbootranch.com/
A Culinary Voyage in Palm Harbor
Embarking on a culinary journey in Palm Harbor is akin to opening a book filled with delicious narratives. The town boasts a rich tapestry of dining venues, each with a unique flavor and story to tell. Whether you are in the mood for a casual brunch, a romantic dinner under the stars, or a lively meal with friends, Palm Harbor's dining scene is ready to enthrall. The blend of traditional eateries, modern cafes, and international cuisines creates a melody of flavors waiting to dance on your palate.
Ozona Blue Grilling Co.
At Ozona Blue Grilling Co., dining is an experience that transcends the ordinary. Nestled by the water's edge, this gem offers a spectacular view of the Florida sunset as a backdrop to your meal. The menu is a love letter to the sea, featuring a plethora of fresh seafood dishes grilled to perfection. Whether you opt for the succulent scallops or the signature fish tacos, each bite is a journey to the heart of Florida's rich maritime bounty. The laid-back yet elegant ambiance makes Ozona Blue a perfect spot for both a casual lunch or a celebratory dinner. Dive into the oceanic flavors at ozonabluegrill.com.
Thirsty Marlin Grill & Bar
Welcome to Thirsty Marlin Grill & Bar, where the ambiance is as enticing as the menu. This lively venue captures the essence of Palm Harbor's friendly community spirit. Known for its sushi and seafood, Thirsty Marlin offers a menu that's a delightful blend of traditional and contemporary flavors. The outdoor patio, with its welcoming shade and cool breeze, is the perfect spot to enjoy a meal as you soak in the local vibes. With live music adding a rhythmic cadence to your dining experience, Thirsty Marlin Grill & Bar encapsulates the joy of a meal shared in good company. Explore the menu at thirstymarlin.com.
Fireside Pizza Cafe
For a slice of heaven, step into Fireside Pizza Cafe, where the aroma of freshly baked pizza crust welcomes you. This cozy eatery, known for its wood-fired pizzas, offers a warm, inviting atmosphere that makes dining here feel like a meal with family. From classic Margherita to innovative topping combinations, there's a pizza for every palate. And if you're looking to venture beyond pizzas, the menu offers a range of hearty pastas and salads. Fireside Pizza Cafe is where traditional meets modern, and all with a generous sprinkle of Palm Harbor hospitality. Relish the flavors at firesidepizzacafe.com.
Mystic Fish Seafood Grill
Mystic Fish Seafood Grill is a haven for seafood lovers. The intimate, elegant setting creates a perfect ambiance for a memorable dining experience. The menu is a testament to the chef's artistry, with each dish meticulously crafted to highlight the fresh, flavorful ingredients. From the tender Chilean Sea Bass to the rich Lobster Bisque, Mystic Fish elevates seafood dining to an art form. Pair your meal with an irresistible selection from the extensive wine list for a truly exquisite culinary adventure. Unveil the mystique at 3bestchefs.com/mystic.
Immerse in Palm Harbor's Artistic and Cultural Tapestry
Dive into a realm where creativity and tradition flourish in harmony in Palm Harbor. The town, with its picturesque locales and friendly community, provides a nurturing ground for arts and culture to thrive. From galleries showcasing local artistry to events that celebrate Palm Harbor's diverse cultural heritage, there's a vibrant palette of experiences awaiting the curious soul. The murmur of history, the strokes of creativity, and the rhythm of cultural festivities make Palm Harbor a canvas rich with colorful narratives.
The Leepa-Rattner Museum of Art
The Leepa-Rattner Museum of Art stands as a beacon of fine art in the heart of Palm Harbor. Home to a rich collection of 20th-century art, the museum invites visitors to traverse through time as they explore the evolution of artistic expression. The architectural brilliance of the museum complements the artistry it houses, creating an ambiance that inspires awe. The museum's commitment to fostering a love for art extends to its educational programs, making art accessible to all ages. Embrace the beauty of artistic endeavors at leeparattner.org.
Palm Harbor Museum
Step into the pages of Palm Harbor's rich historical narrative at the Palm Harbor Museum. Housed in a charming historic building, the museum provides a window into the community's past. Through an array of artifacts, photographs, and exhibits, the museum tells the tale of Palm Harbor's evolution from a small fishing village to a vibrant, bustling community. The friendly and knowledgeable staff add layers to the story, making your visit to the Palm Harbor Museum a journey through time. Explore the roots at palmharbormuseum.com.
Art on the Green
Art on the Green is not just an event but a celebration of creativity set against the lush backdrop of Palm Harbor's natural beauty. This annual event transforms local parks into an open-air gallery where local artists showcase their creations. The array of artwork, from paintings and sculptures to crafts and jewelry, reflects the vibrant artistic spirit of the community. Art on the Green is a platform where artists and art lovers converge, sharing their passion for creativity under the Florida sun. Stay updated on the event at palmharborartsonthegreen.com.
Harbor Sounds Fall Fest
Harbor Sounds Fall Fest is an ode to the cultural richness of Palm Harbor. This annual fest fills the streets with music, dance, and a cornucopia of flavors. Local musicians provide the soundtrack to a day filled with exploration of arts, crafts, and culinary delights. It's a venue where the community comes together to celebrate the changing seasons amidst a lively, joyful atmosphere. Harbor Sounds Fall Fest is a true reflection of Palm Harbor's welcoming spirit and its vibrant cultural tapestry. Discover the festivity at harborsoundsfallfest.com.
Family Fun: Palm Harbor's Heartbeat
In Palm Harbor, the essence of family fun is woven into the town's character, making it a delightful playground for both the young and the young at heart. This charming enclave along Florida's Gulf Coast harbors a medley of activities and venues that beckon families to create cherished memories together. From frolicking on sun-kissed beaches to exploring nature's wonders and enjoying community events, Palm Harbor unfolds a tapestry of joyful experiences that etch lasting smiles on the faces of its visitors. Here, every moment spent with loved ones turns into a precious narrative, enriching the town's family-friendly ethos.
Little Explorers
Little Explorers is an indoor play center designed to ignite the imagination and foster socialization among children. With a variety of engaging activities, kids can traverse through playful learning environments that spark their curiosity. The well-thought-out play areas offer safe, stimulating experiences, making it an ideal venue for young minds to socialize and for parents to connect. Little Explorers believes in combining fun with learning, creating a nurturing ambiance that kids adore. From celebrating birthdays to enjoying a day of play, Little Explorers is a cherished venue for families. Learn more at littleexplorersflorida.com.
Kiwanis Sprayground
Nestled in the heart of Palm Harbor, the Kiwanis Sprayground is a haven of fun for the little ones. With playful fountains that dance to the laughter of children, this splash park offers a refreshing respite on a warm Florida day. The gated playground adjacent to the spray area ensures the fun continues as kids swing, slide, and explore. Parents can relax, knowing their children are safe as they enjoy free, wholesome fun under the sunny skies. The Kiwanis Sprayground epitomizes simple yet joyful outdoor play, making it a favorite among local families. Discover more at dunedingov.com.
Replay Amusement Museum
Replay Amusement Museum is a treasure trove for arcade enthusiasts, offering a nostalgic journey through the golden era of arcade gaming. With over 100 pinball games, video arcades, and jukeboxes, it's a playground where the young and young-at-heart can bond over the joy of gaming. The museum's lively yet laid-back ambiance sets the perfect stage for a family day out filled with friendly competition and hearty laughter. Every visit promises a dose of retro fun, making the Replay Amusement Museum a cherished venue for families in Palm Harbor. Discover more at replaymuseum.org.
Suncoast Primate Sanctuary
Suncoast Primate Sanctuary provides a compassionate home to over 70 animals, including orangutans, chimpanzees, and other wildlife, offering an educational and heartwarming experience. Visitors can learn about the residents' rescue stories, their personalities, and the sanctuary's conservation efforts. The sanctuary nurtures an environment of understanding and compassion, making it a rewarding destination for families. It's a place where every interaction with the animals educates and inspires, promoting a message of empathy and conservation. Explore the wild side of Palm Harbor at suncoastprimate.org.
Your Next Chapter in Palm Harbor
Embarking on a journey through Palm Harbor is akin to flipping through pages filled with vibrant tales, each waiting to become a part of your story. The blend of natural beauty, engaging activities, diverse culinary delights, rich cultural fabric, and family-friendly venues makes Palm Harbor a place where every day holds a promise of new adventures. When you're ready to turn this delightful town into your home, I'm here to guide you every step of the way. Reach out, and let's embark on the exciting journey of finding your perfect abode in this charming Floridian haven.